With a population of over 400,000, Laval is the third largest city in Quebec, behind Montreal and Quebec City. It also ranks among the fastest-growing cities in the province, and its reputation as a welcoming city that promotes social and cultural inclusion for all Laval residents is well known. Discover what Laval has to offer to its new residents.
---
1- Laval, an ideal location
Laval is ideally located thanks to its bridges and highways, which provide easy access to Montreal and to the Laurentian region. In addition, Laval residents also have a very efficient public transportation system. Buses, commuter trains and multiple metro stations make it simple and convenient to get around Laval. Also greatly appreciated by the population, the 360 shuttle is a free bus service provided in downtown Laval.
Source: laval.ca
2- Chomedey, a thriving neighbourhood
Bursting with life, the Chomedey district in Laval ranks high on the list of future homeowners. Why choose Chomedey? It's the most densely populated area in Laval, meaning you will find, among other things, the Carrefour Laval, Centropolis'best restaurants, the Cineplex movie theatre, etc. Moreover, all essential services are located nearby on the main boulevard, most of the time within walking distance.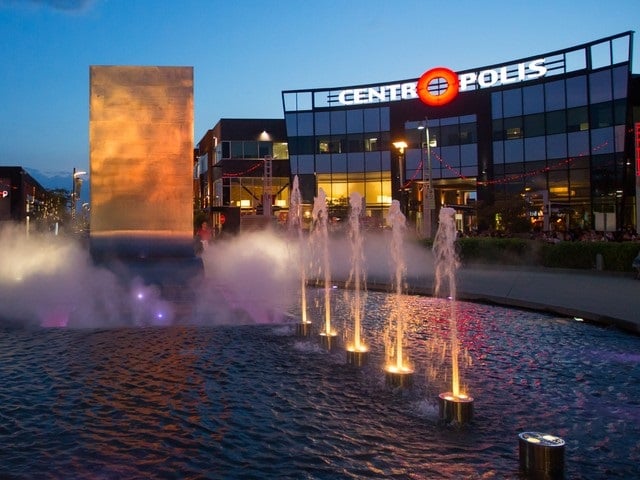 Source: Centropolis
3- Centropolis, a great place to enjoy quality time
Le Centropolis is a unique gathering place in the heart of downtown Laval where people love to meet up to share a good meal with friends or family, see a show, do a little shopping in the fashion boutiques, etc. Furthermore, the restaurant selection is very diverse (with or without terrace): Italian, Asian, fusion, Thai, steakhouses, vegan options and much more.
Source : Tourisme Laval
4- Laval, a city for active people
Whether you are an athlete or a sports or entertainment fan, Laval has the infrastructures to meet your expectations. At Place Bell, where sports and culture converge, you can attend Laval Rocket games as well as concerts and shows. For amateur or elite swimmers, Laval residents will welcome the new aquatic complex in 2024. Located next to the Cosmodome, this new facility will accommodate 875 swimmers and 600 spectators.
Source : VIVA Condos
5- Real estate development in Laval
Several real estate projects are being developed in Laval and contribute to the city's demographic and economic growth. Among them, the VIVA Condos housing project will include more than 750 new condos upon completion of its 8 phases. Its prime location, near Centropolis, makes it an unquestionable success in Laval. It offers co-owners living spaces that are modern, spacious and bright, located in the heart of a dynamic neighbourhood dedicated to entertainment and enjoying life.

Living in Laval's new downtown area has many advantages, including access to a wide variety of sports, shopping and entertainment options, several restaurants and terraces located nearby and much more. To be right at the center of the action, reserve your own unit now at SUMUM, VIVA Condos' phase 6.Contact us.
You liked this article? You will probably also like those articles: